← The 55+ Mortgage: a flexible way to borrow into retirement
Bank of England holds bank rate →
Are the rates are good value for Equity Release mortgages
Posted on 15/10/2016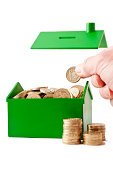 Lifetime mortgage interest rates have fallen to a record low level in the months following the Brexit vote, according to Legal & General.
The provider's flexible lifetime mortgage product now offers an interest rate of 3.71%, compared to 5.19% in April this year.
According to L&G's figures, a flexible lifetime mortgage of £100,000 taken out today could see the amount owed after 15 years drop by £40,901 compared to one taken in April, from £213,608 to £172,707.
The current lifetime rate is also lower than the average standard variable mortgage rate of 4.27%. This means that customers over 60 on their lender's SVR could potentially save money by switching to a lifetime mortgage at a lower interest rate.
The Equity Release Council said that even before the latest reductions, lifetime mortgage rates dropped faster than any other form of lending in first six months of 2016.
This entry was posted in
Mortgages
,
msol
,
News
. Bookmark the
permalink
.
← The 55+ Mortgage: a flexible way to borrow into retirement
Bank of England holds bank rate →